The best autumn activities you cannot miss
September always brings a longing to be in nature. The weather is still good, and it's an excellent time to enjoy some outdoors experiences. There are a couple of special autumn activities this year that you should definitely not miss. Zalakaros and the neighbouring area are a great choice if you are looking to relax with the family, but groups of friends and couples will also find plenty to enjoy in Zalakaros in the autumn.
Camping at Thermal Camping Zalakaros
There is still time for an unforgettable tent holiday until the end of September. A Thermal Camping Zalakaros is still open for off-season bookings. This is a special time of year because you can still enjoy summery warm temperatures but the air is a lot fresher, and you won't have to find shelter from the scorching sun, so you can enjoy being outside all day long. Spending a few nights outdoors should definitely be on everyone's autumn bucket list before you have to start staying inside and wrapping yourself up against the cold.
Make the most of the pleasant weather, and spend a relaxing weekend at the campsite. Bring out the outdoors games! Nothing quite beats the experience of playing badminton or some other fun game with your family and friends under the huge, green trees.
Get a hit of adrenaline at Zobori Adventure Park
A host of fantastic, adrenaline-fuelled experiences await at Zobori Adventure Park. The adventure park is situated near Zalaszabar, just a few kilometres away from Zalakaros. It has a wide range of activities on offer, and there is something suitable for every age group. For example, you can have a ride on Hungary's only rollercoaster, which offers unique and breath-taking views of the Little Balaton area when you reach the top.
But there is so much more here. You can experience freefalling, dry slides, airsoft, paintball, laser tag, shooting, rope trails, a giant swing, bumper boats and many more exciting rides and activities that guarantee a good time to all. If you have a free weekend in September, you should definitely visit the adventure park.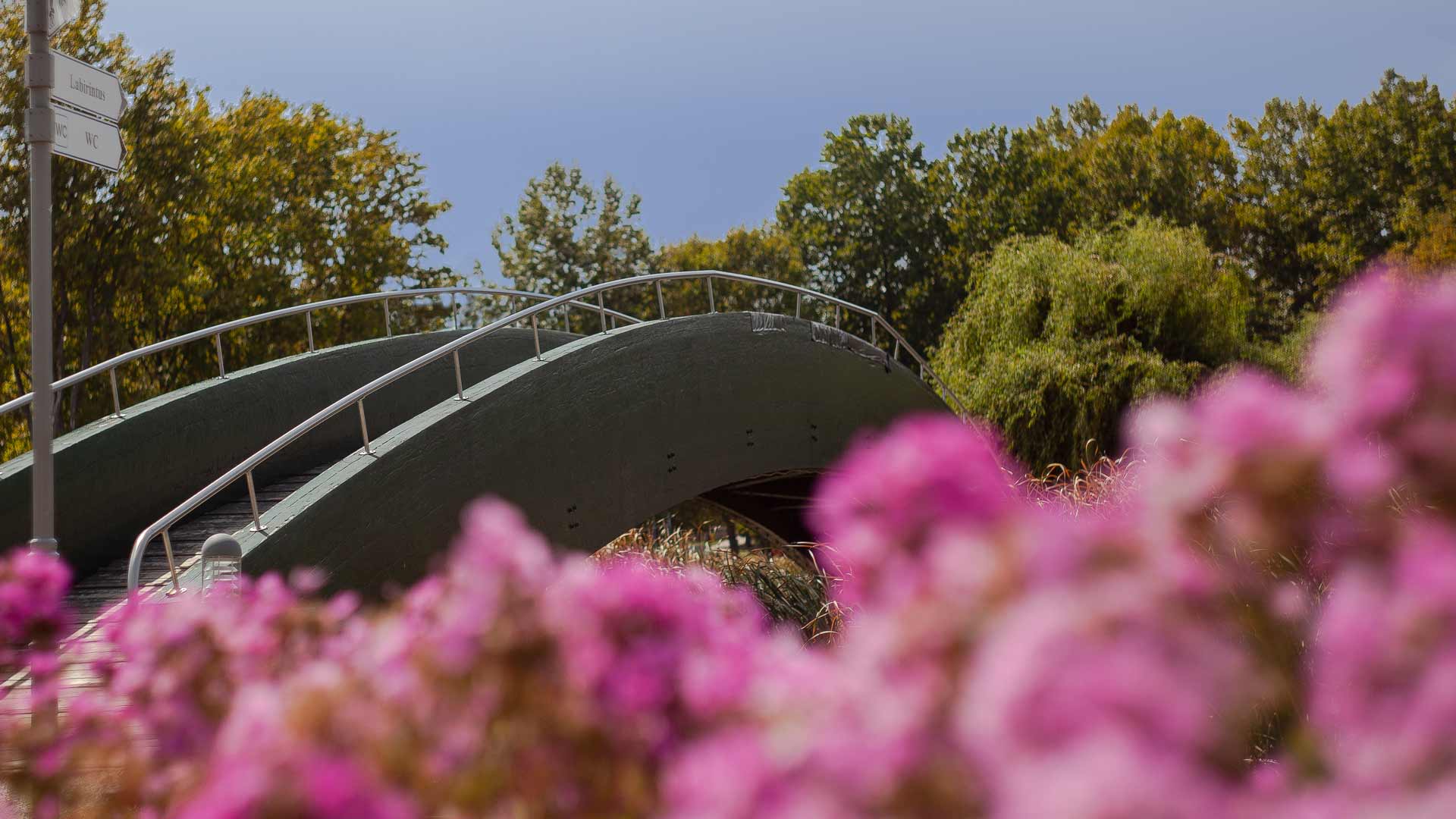 Active relaxation and sports near Zalakaros
For most of us, the autumn is a period of physical activity. It is a great time to increase your energy levels and improve your body's resilience. The end of the year is often quite a stressful period, so make sure to schedule some sort of active relaxation before September, and you will enjoy its benefits later. Zalakaros and the neighbouring area offer plenty of opportunities to do so.
There are many hiking trails so you are sure to find one with a length and difficulty that suits your fitness level. If you are an avid runner, do not miss the Little Balaton Circuit race. Exercising right in the middle of untouched nature provides an opportunity to replenish unlike anything else.
There are too many attractive autumn activities in Zalakaros to fit into just a few days. The area offers a wide range of options for both active and passive relaxation. Visiting the Little Balaton area is definitely one not to miss in the autumn. Having a walk surrounded by untouched nature, seeing this wondrous wilderness first hand and being at arm's length from the diverse birds and other animals that live here is an exceptionally replenishing experience.
While exploring the Little Balaton area, make sure not to miss the water buffalo reserve at Kápolnapuszta. It is home to the largest buffalo herd in Hungary. These animals are very interesting for a number of reasons, and the visitor centre will allow you learn all about them. Taking the 800-metre walking path across the reserve to see everything is a great experience for visitors of all ages.
Visiting the Buffalo Reserve is a great activity for those travelling with small children, because there is also a petting zoo and a playground on the premises.
Recharge and re-energise yourself at Zalakaros Thermal Spa
With all the excitement of autumn activities, do not forget to allow some time to relax and regenerate physically. The changing of the seasons taxes the body, and you should bolster your immune system in preparation for the autumn. The most enjoyable way to do so is by visiting a medicinal spa. Zalakaros Spa is open all year, and has a range of medicinal, wellness and experience spa services on offer. In September, even the open-air swimming pool is open to visitors. Allow yourself to relax and recharge, and enjoy the excellent sauna programmes, the wonderful Zalakaros medicinal waters, the massage and all the other available services.
If you want to book accommodation just a few steps away from the spa, remember that September is off-season at Thermal Camping Zalakaros. Bring your own tent or caravan, and have a relaxing time at our campsite.