Staying in a tent should be comfortable
The main objection many people have against camping is that they think sleeping in a tent is quite uncomfortable, and they worry they would wake up with a back ache every morning. This is a misconception. There is no reason to leave home-like comfort behind when you go camping.
The biggest benefit of sleeping in a tent is that you can forget about the day-to-day, see the world from a completely new perspective, and find a pace of life that suits you better. Everyone wants comfort, especially while on holiday, and there is no reason to compromise on that, even if you decide to stay close to nature.
How to make a camping holiday the best it can be? All you have to do is purchase the right equipment. Staying in a tent is
considerably cheaper than booking a B&B or apartment, so you will not have to worry about going over budget even after accounting for the price of the coolest of camping gear. What is more, you only need a few basic pieces of equipment to guarantee your comfort and, once bought, they will stay with you and continue to make your holidays more enjoyable for many years to come.
You can have a good night's sleep!
What makes a sleeping place good?
Everyone has a different idea of what comfort means, so definitely consider your personal preferences. You can take an inflatable sleeping pad (there are even self-inflating options now), or pick a foldable foam mat. You should also pack a closed-cell foam mat because it provides great thermal insulation, so you will have nothing to fear even on colder nights, and it also helps cover over any unevenness on the ground.
Don't forget a blanket and a pillow. A light polar fleece blanket and a comfortable small pillow are essential, but most campers swear by using a sleeping bag as well. If you worry that summer mornings will get too hot in the tent, set up camp under the shade of some trees, and the sun will definitely not disturb your rest.
Tent, sweet tent
Children find setting up a tent just as exciting an activity as building a hideaway. For the length of your stay, the tent will be your home away from home, so do go beyond the bare essentials. A few well-picked accessories can provide a pretty and atmospheric sleeping environment.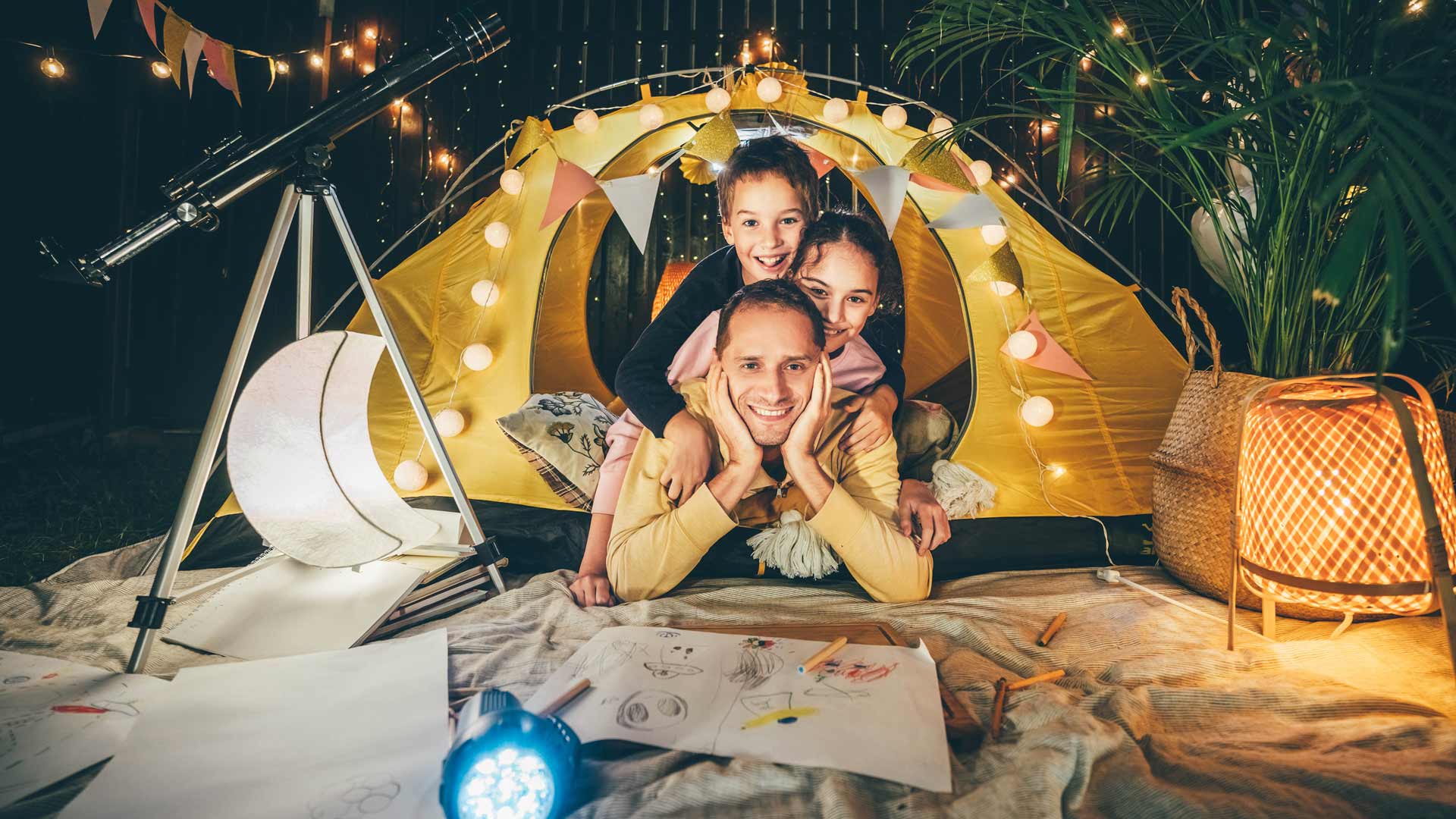 Ambient lighting outdoors
Do not forget about lighting. First of all, you should always pack a flashlight. If you travel with older children who are feeling brave, a flashlight will also come in handy for horror story nights. But adding the right ambient lighting can make staying in a tent a truly exceptional experience. Battery-operated LED lanterns and string lights can create a fairy tale atmosphere, whether you are staying with family, friends or with a significant other.
A garden in front of your tent
Battery-operated string lights and lanterns are not just for decoration: they can also help navigate and find your tent in the dark. Once you have your ambient lighting all set up, why not create a back garden atmosphere by adding some folding chairs and a patio table for long chats in the evening and having breakfast together in the morning. Don't forget the equipment you will need to make food, either, including instant barbecues and your morning coffee or tea.
The essential campfire
No camping experience is complete without a campfire. If you enjoy staying in a tent in the great outdoors, you will love the inimitable atmosphere of building a fire in a summer evening. If you are planning a camping holiday, do not forget about the campfire. Thermal Camping Zalakaros has a number of fire pits to sit around, whether for a long chinwag or to get some open-fire cooking done. You can obtain firewood on the site, too, so no need for long walks in the woods.
You will need a plan
Holidays are a time of relaxation, when you can afford to be spontaneous. Staying in a tent gives a sense of freedom, and you can arrange whatever activities you feel like at the time. Zalakaros is the ideal holiday destination because it offers a large number nearby points of interest, nature preserves, interesting hike trails and activity parks, and the outstanding Zalakaros thermal spa is also on your doorstep.
But to make sure that your camping holiday is a truly unforgettable experience, it is best to have a plan. Even before setting off on your trip, make a list of activities that best suit your interests and preferences.
Professional holiday-makers can even schedule where they want to go when, when they will eat and where, e.g. whether to go to a restaurant, pack some sandwiches for lunch or cook a quick meal at the campsite. Thermal Camping Zalakaros has an on-site restaurant but our kitchen is available to guests so you can also cook your own food.
The best thing about a camping holiday is that it can start weeks before you actually set off. Making plans and preparations are all part of the experience.
The benefit of making careful preparations is that your holiday will go off without a hitch. For example, there are certain essentials, including official documents, which you will definitely need, so make sure you do not leave these at home. Remember, though, that the purpose of your holiday is to relax, plans can be broken, and each unexpected situation has the potential to become a new adventure. If you are feeling bold enough, you could just pack all your camping gear on a whim and pop down to , for an impromptu weekend getaway.
Create your own traditions!
Camping holidays provide an unforgettable experience, an adventure, and freedom. Once you are hooked on this feeling, you are sure to want to experience it again and again. Whether you go with your family or a significant other, create your own traditions that will make for great stories in years to come, and which will remind you of the adventures you experienced together. For example, you could have an unusual object or figurine that you take with you every year, and display in a place of honour once you have set up camp.
Or those travelling together could pose for a photo together at a set time during the holiday, so you can track the passage of time over the years, and see the children grow up as your camping accessories change in the background.