Summer holidays at Thermal Camping Zalakaros
Campsites are among the most popular types of accommodation because they allow you to relax right in the heart of nature, and do everything at your own pace, without a rush. On top of that, campsite prices are considerably lower than staying at an impersonal hotel or apartment. You can even reduce costs further by visiting this beautiful, green environment off-season, when prices are even more reasonable.
There is a lot to love about camping, but perhaps its most distinctive feature is that you can completely tailor your accommodation to your own taste. You can set up a home away from home, and equip it with all the mod cons you need, know and love. Whether you are staying in a tent or a caravan, camping will definitely provide a much-needed escape.
A thousand adventures in Zalakaros
Zalakaros has everything you could possibly need for the perfect holiday. Fantastic day trip destinations, the Water Buffalo Reserve in Kápolnapuszta, the Little Balaton area, a number of nature reserves practically untouched by human hands and exciting cycle routes are all yours to explore. The medicinal and wellness services of Zalakaros Spa are of outstanding quality and can compete with the best in Europe. Thanks to the special properties of the local medicinal waters, you can replenish both your body and your mind while spending a relaxing holiday in the town.
You can buy a ticket to the spa right at the campsite reception. Make use of this convenient option to avoid the queues, and you can start enjoying Zalakaros Spa in a matter of minutes.
For all these experiences and more, Thermal Camping Zalakaros is the perfect starting point. You can feel right at home at the campsite, and if you book your accommodation there, you are guaranteed not just a genuine camping experience but will also be in the ideal spot to explore all the countless activities that Zalakaros and its surrounding area have to offer.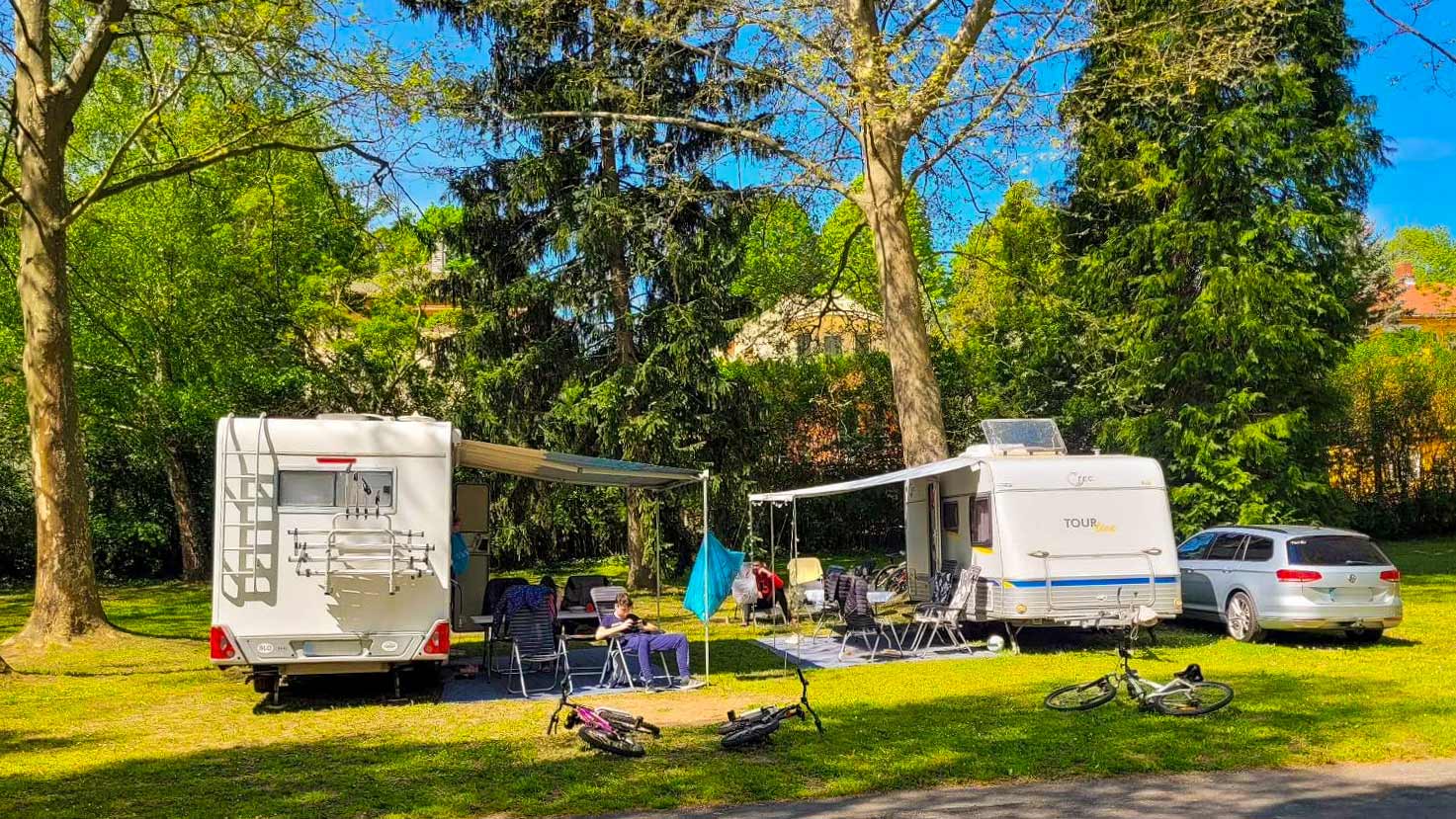 Accommodation options – Caravan and tent pitches
Thermal Camping Zalakaros is situated on expansive, green grounds, dotted with trees, which guarantees a pleasant break to all our guests. Whether you opt for a tent or a caravan pitch, you will get 100 square metres all to yourself, so you can set up camp in comfort. For each plot, campsite prices include accommodation for 2 people, free Wi-Fi at the reception, and an electric hook-up on your pitch.
You can also use your spacious pitch to store a car right next to your caravan or tent. This is a great advantage because it will save you having to search for a parking space, you will not have to pay for parking, and you can rest assured your car is in a safe place while you explore the surrounding area. The town centre, the spa and the many local attractions in Zalakaros are all just a few minutes' walk away from the campsite.
What is included in the base price?
Whichever pitch you book, you will have 100 square metres at your disposal. The basic campsite prices include the following:
or
1 caravan and the car that tows it + 2 people
or
1 tent and one car + 2 people
plus
10 amp mains electric connection
free Wi-Fi at the designated area of the reception
You can add people, cars or tents to the above, and you can even bring your pet with you. For an additional fee, you can extend the base package in any way to suit your requirements. Each guest can decide the number of people and the type of equipment they want to bring, and whether they want to be accompanied by any four-legged friends, and they will be able to enjoy campsite prices tailored to their preferences. Campsite prices also vary between the off-season and the peak season.
It is well worth visiting in the off-season if you want to enjoy a great holiday for even less. Make an inquiry to get a custom quote, or use the online price calculator function, which will allow you not only to see prices quickly but also to book your accommodation easily.
Calculate campsite prices and make a booking
It only takes a couple of clicks to book your accommodation online. Just select your preferred dates, the number of guests, and enter any additional requirements. You will receive a quote, which sets out the campsite prices you can expect to pay for your holiday. If you want to reserve your accommodation at Thermal Camping Zalakaros, you will need to finalise your booking. Just pay the deposit to secure your place for the dates you selected. You can use your debit or credit card to pay for your accommodation.
Make an inquiry
You can also make an inquiry online without any commitment. Please note that this does not count as making a booking. If you are interested in what campsite prices you can expect to pay, or if you are planning your holiday budget, just fill in a simple form on our website in a couple of minutes. We will shortly (within 24 hours) be in touch with a custom quote sent to your e-mail. This option can be especially handy if you want to get a quote that covers all your extra requests.
Make your holiday even cheaper
Whether you are staying in a caravan or a tent, campsite prices are even lower off-season, so you should definitely consider trying an off-season holiday. This way, you can keep your costs down while making the most of all the benefits of a springtime break.