No trip to Zalakaros would be complete without exploring the Little Balaton ("Kis-Balaton" in Hungarian) area. When you are in Zalakaros, make sure you check out the most important day trip destinations and sights when you are not enjoying a replenishing visit to the medicinal spa.
You should definitely put the Little Balaton area and the Kis-Balaton Visitor Centre on your bucket list. If you haven't seen these amazing natural treasures before, now is the time! If you have been here before, you will already know that this magical place has something new to offer on every visit.
It is definitely worth spending at least a day exploring the area.
The location and natural treasures of Little Balaton
A mere half-hour drive from Zalakaros will take you to Little Balaton, an area of unique natural and cultural significance. The area surrounds the mouth of River Zala, to the south-west of Lake Balaton.
This wetland wilderness is a popular destination among eco-tourists because its nearly 150 square kilometres is home to a wide array of plants and animals, and its enchanting natural treasures make it one of Europe's most fascinating wetland habitats.
Most of the area is a nature reserve, part of the Balaton Uplands National Park. There is a lot to see here: Little Balaton is perhaps most famous for its bird reserve, but it is also known as the 'cradle of the fishes of Lake Balaton'.
Adventures in the Little Balaton area
It is important to note that the Little Balaton area is a highly protected nature reserve, and certain parts of it can only be visited as part of a tour organised by the National Park, and if accompanied by an expert guide.
It is well worth your time to join these organised tours because you will have a chance to see nature untouched by human interference, and your expert guide will be able to provide an introduction to the history, natural treasures and rich flora and fauna of the Little Balaton area.
Tours are conducted in visitors' own cars, as they drive along a network of embankments. This way, you can observe the natural beauties and exotic birds of the wetland without disturbing them.
To join a tour, just submit an application via e-mail by 4pm the previous day. If you miss the deadline or don't want to have an expert guide, you can still visit the areas that are open to the public, which are also well worth a trip.
Once you are in the Little Balaton area, make sure to explore Kányavári Island, visit the Kápolnapuszta Buffalo Reserve and the traditional Folk House in Vörs, too.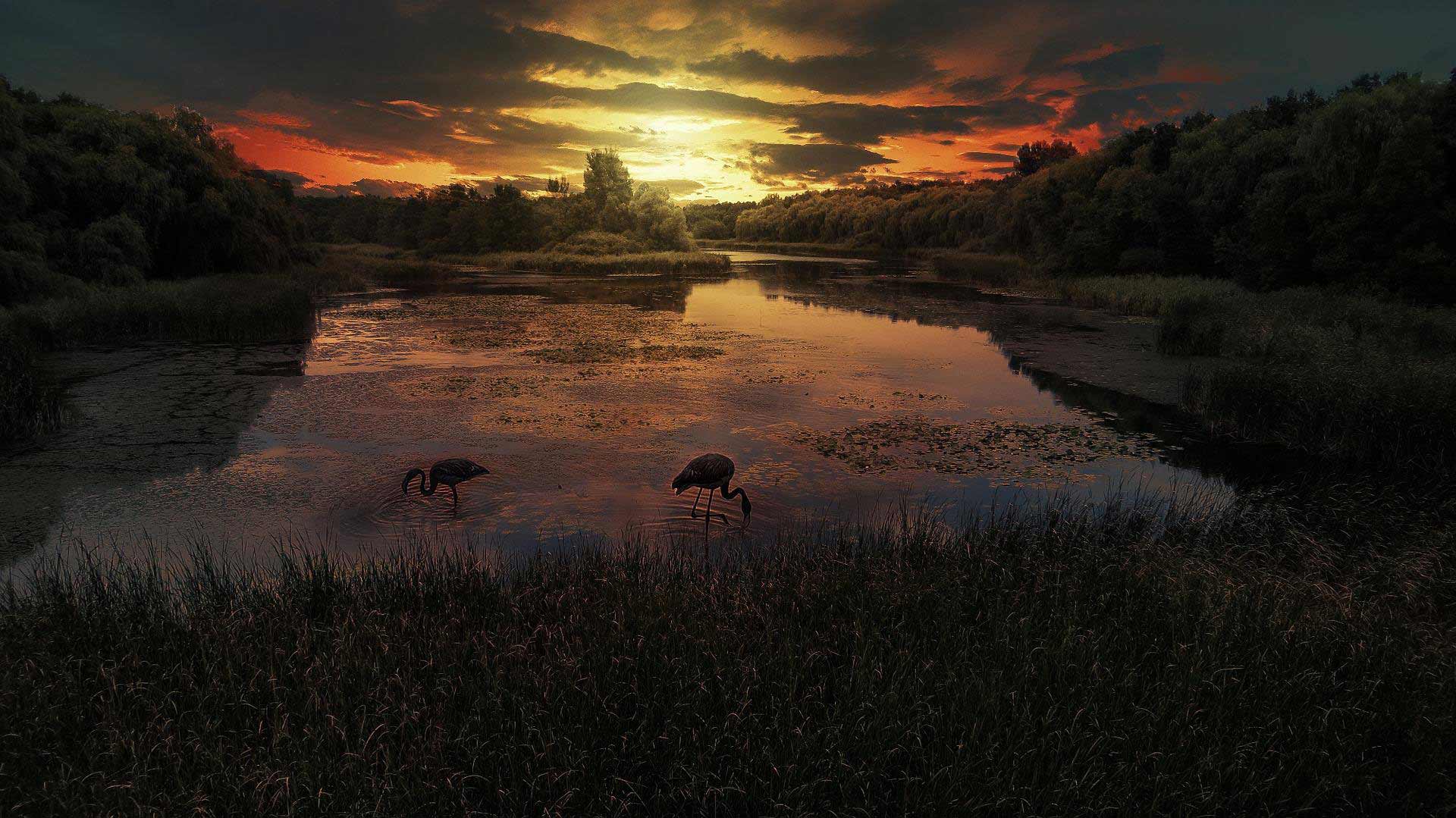 The Kis-Balaton Visitor Centre
The Kis-Balaton Visitor Centre is near Fenékpuszta, some 30 km from Zalakaros. As soon as you arrive, you can embark on a trip to explore Little Balaton. Pick an electric vehicle or hire a kayak or canoe if you want to travel by water.
The Kis-Balaton Visitor Centre opened to the public in the autumn of 2020. It is housed in a modern and somewhat unusual building, and is dedicated to introducing the highly protected natural treasures of the area.
As befits a visitor centre situated in such a highly protected natural environment, the building itself fits perfectly into its surroundings.
Architecturally, it provides a striking first impression: the building is covered in earth and plants grow on its roof. It does not use an external energy source because it is powered by solar panels and ground-source heat pumps.
It is no wonder that the Kis-Balaton Visitor Centre won the Public Building by Lake Balaton award in 2020.
The reception building hosts an interactive exhibition, and there is an educational trail along the roof. The Visitor Centre is an ideal place to take a break during a day trip to Little Balaton because it also boasts a playground, a restaurant and a gift shop.
Enjoy lunch here or just have a coffee and some refreshments. Make sure to check out the gift shop, too, where you can pick up countless books, gifts and souvenirs as well as buffalo salami.
A must-see destination for fans of István Fekete's novels
We all remember Uncle Matula's cabin from our childhood reads. Thorn Castle, a novel about childhood summers, is one of the most popular young adult fiction books in Hungarian literature. In this almost fable-like land, you can take a trip down memory lane and actually visit Uncle Matula's cabin.
Organised trips to the István Fekete Memorial and to Diás Island take place every day, leaving from the Kis-Balaton Visitor Centre.
During the easy hike, your expert guide will introduce you to the local flora and fauna as well as the River Zala, before arriving at the István Fekete Memorial, and you can also visit the authentic Matula cabin.
You can also visit the memorial by water, if you prefer. You should normally submit applications for the canoe trips by the afternoon before the day of your visit, but you might get lucky and take one of the free spaces if you decide on the spot to embark.
This atmospheric little spot is also well worth visiting with children. And if they haven't read István Fekete's most popular novel yet, it is high time they did. Nothing quite beats the feeling of reading a good book while resting at a campsite then going on a trip to visit the places where the story takes place.