Sightseeing flights in Zalakaros
7 April 2023 is an important date in Zalakaros because it marks the start of the holiday season. Thermal Camping Zalakaros opens that day, it falls over the long Easter weekend, and it is also the first opportunity to book a sightseeing flight. Sightseeing flights will be available, subject to weather conditions, every weekend until 31 October.
Leave your comfort zone!
There are some who get excited by the mere mention of flying. It is a fantastic experience to lift off and have a bird's-eye view of all the beautiful hiking routes you know and love. An activity like this can be more than just the highlight of your holiday: it is guaranteed to be an unforgettable experience.
You can take wing in a Cessna 172, which can accommodate three passengers at the same time. If this is your first pleasure flight, it is normal to feel quite a bit of apprehension before take-off, but you should not let it prevent you from taking part in the activity because the breath-taking views are definitely well worth it. You may often long to escape the dreary every day and try something new. A pleasure flight will give you all that and more. The views are unlike anything else, and a trip through the air is the best kind of escape there is.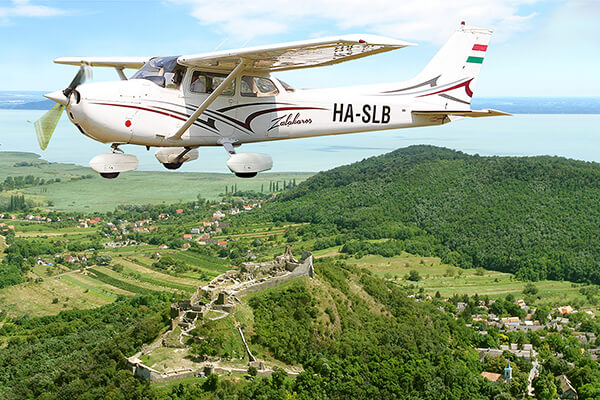 Varied routes from the spring till the autumn
If you'd like to experience a pleasure flight, there are a number of routes and flight durations you can choose from. The shortest trip will last 15 minutes and let you see the Little Balaton area from up above. The 20-minute trip shows more of this area, but you can also see Zalakaros spa and even your accommodation, if you wish. The beautiful, ancient trees of Thermal Camping Zalakaros look like a green oasis of calm from above.
Or why not set on a longer trip towards Hévíz and Keszthely, which will take you 30 or 45 minutes, depending on your preference. There are also Castle Tours, you can fly as far as the Tihany Peninsula or circumnavigate the entire Lake Balaton. These longer routes last between 60 and 100 minutes.
Zalakaros Airport is situated along the road that connects Zalakaros and Zalakomár. It is open for take-offs from the spring to the autumn, subject to weather conditions. The airport is a mere 3 km from the town centre, so a fantastic aerial adventure is always only a stone's throw way.
On the ground, on the water or in the air – Varied holidays in Zalakaros
We all know Zalakaros is a unique place, and offers a range of activities so that there is something here for everyone. Thanks to the sightseeing flights that are available from 7 April, you can now see the town and its beautiful surroundings, including local nature preserves, from above. Breath-taking adventures like that do not come around every day, so if your break is scheduled for after 7 April, you should definitely not miss out on going for a sightseeing flight.
Even after landing, you will definitely not get bored in Zalakaros. Karos Promenade offers a wealth of activities from the spring for those who enjoy town-based experiences, and there is also a string of events that evoke the carefree atmosphere of the Mediterranean. It's difficult to say what the most exciting attraction is in the area, but there are lots of unparalleled natural treasures and exciting day trip destinations to choose from.
Fun is pretty much guaranteed and a beautiful environment is a given, but there is still more. The medicinal waters of Zalakaros spa are among the best in the whole of Europe, and the spa also offers medicinal and wellness services as well as saunas and experience pools.
Zalakaros is a truly varied holiday destination. Whether you are looking for water-based adventures or want to spend some time in nature, or even if you want to walk among the clouds, there is something here for you. All you need to round off the experience is a nice place to stay. Thermal Camping Zalakaros is just a few steps away from the spa, and you are guaranteed to find what you are looking for while relaxing in the shade of its beautiful trees.
Get a quote and book accommodation at the campsite
Thermal Camping Zalakaros opens on 7 April. Whether you'd like to explore the area, get a bird's-eye view of the beautiful surroundings, or long for a dip in the cool water, all you need to do is book your accommodation at Thermal Camping Zalakaros. It only takes a few minutes, and your booking is confirmed as soon as you pay the deposit, so you can start preparing straight away. You can use any major debit or credit card to pay.
One of the benefits of visiting in the off-season is that you can save yourselves some money by doing so. Spring weather is ideal for hiking or just soaking in the thermal water to relax. Don't worry even if you haven't tried off-season camping before. Your best option is probably to hop into your caravan (or just rent one) because that is one of the most comfortable ways to get the full camping experience. You can even bring your pets to stay with you on one of our spacious plots. You can book your accommodation online at any time, so get started on planning your summer holiday!