Spending a summer holiday in a caravan is something many of us have dreamt of since we were kids, because of the unique atmosphere and special memories we can make on such a trip. A road trip in a caravan is a true adventure that offers only immense freedom, but comfort too. For one, everything we could need is at hand in a caravan, which can act as a second, smaller home, filled with both practical items and small luxuries.
Besides comfort, a caravan also provides the inimitable camping lifestyle, as camping with a caravan is just as much of an enjoyable, challenging experience as camping with tents. Whether you're going on a caravan adventure with your partner, your family, or even your friends, the experience will create unforgettable memories and bonds.
Caravan holidays at Thermal Camping Zalakaros
Bring your most important camping equipment, and the campsite will provide the rest. Thermal Camping Zalakaros provides a minimum 100 sqm plot for all those arriving with tents or caravans. Having a spacious plot as important part of relaxing, as the plot reserved for your own use is large enough to create a space for your home away from home. You can set up tents, camping chairs and tables, even atmospheric lighting, to create your own personal camping space.
Equally important to the size of the plot is the campsite itself, situated in expansive, verdant grounds, full of immense, ancient trees, so that you are right in the heart of nature while you are camping.
The plots are all numbered for your ease, but our reception staff are always available to help. You won't need to search endlessly for your car in a big, shared car park, either, as we allow you to park right next to the caravan. You can set up camp on your plot from noon on the day of arrival, and you don't have to rush off on your last day either, with check-out not until 11am.
Your furry friends don't have to stay at home: pets are welcome on our campsite. Please do observe the ground rules that apply to having animals with you while on holiday.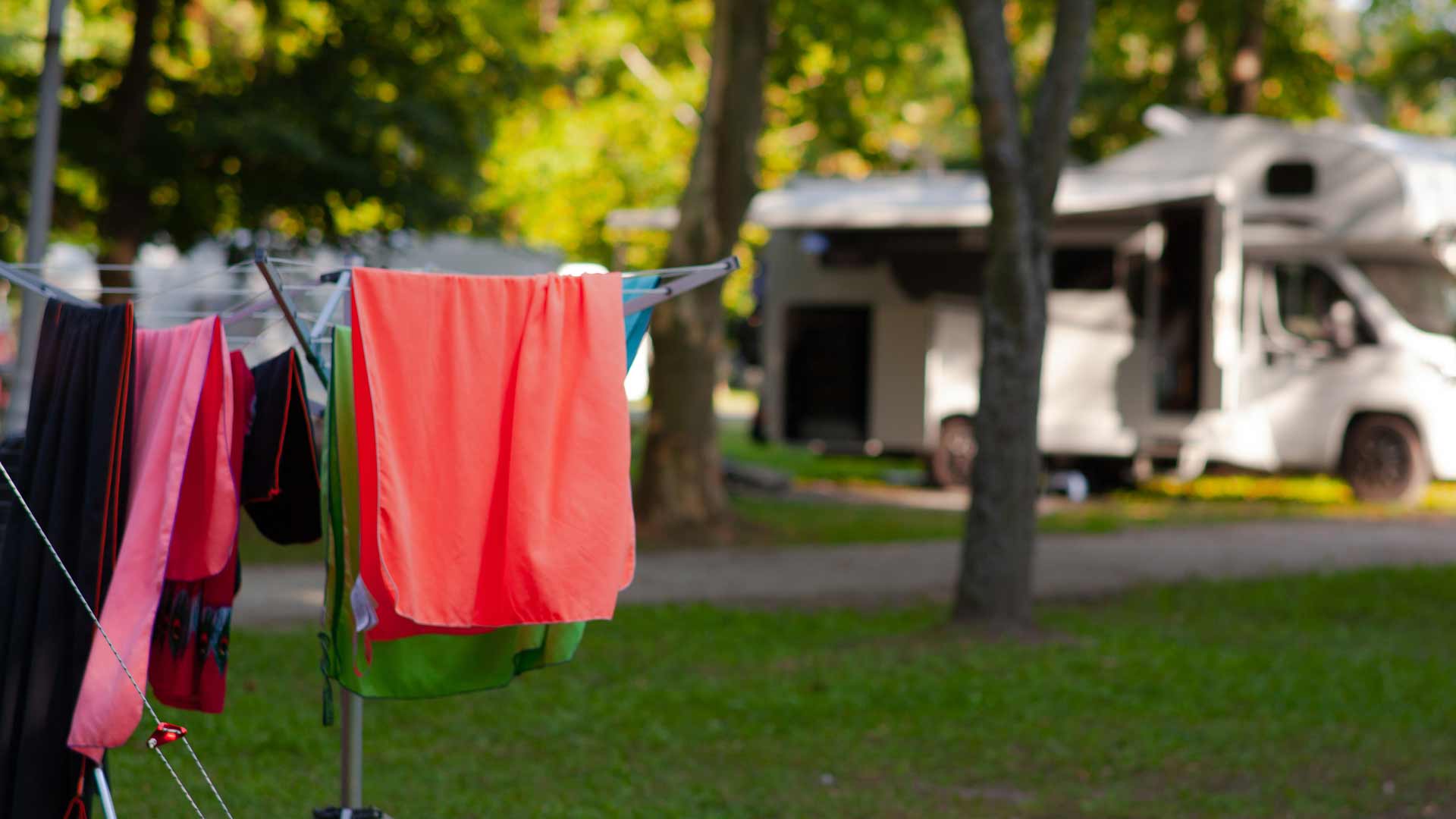 Caravan plots in the shade – Thermal Camping Zalakaros
The most important services are available on-site
After you have set up camp, relax, as all that you need and everything else you may want are available on the campsite. Perhaps the most important are the culinary options available. There is a fantastic restaurant at the campsite, which is always worth a visit during your stay.
Of course, if you don't want to go out, when you feel like cooking, or even if you just want a simple breakfast, the campsite kitchen is available to use. If you would prefer to cook by the campfire, or grill in the fresh air, you can use the kitchen to do all the prep and to wash up afterwards.
At Thermal Camping Zalakaros, the most important services are available on-site, and you don't even need to leave to build a campfire because firewood is available at the reception for purchase.
How well-equipped are the plots?
On a caravan trip, having mains connection and the ease of access to it can be deciding factors. A 10A mains connection for your caravan is included in your reservation. Electricity usage is included in our prices, so you won't incur extra costs during your stay. To preserve your mobile data allowance, the reception also provides a comfortable space where WIFI is available to Thermal Camping Zalakaros guests.
A little extra pampering at the campsite
If you're looking for a little luxury, there's no need to leave the campsite, as hair stylists and professional massage is available on the premises. All you have to do is book your appointment, and you can get a fresh haircut, or enjoy a relaxing or therapeutic massage.
Caravan camping can provide such a relaxing and enjoyable experience in the heart of nature that it is unsurprising many of our guests don't want to leave the campsite. However, Zalakaros and its neighbouring area Zalakaros Spa where you can treat yourself to a day of luxury through the high-quality medicinal and wellness services offered by the spa.
In short, visit Zalakaros for a caravan adventure! Thermal Camping Zalakaros is open from spring through to the end of September. Click HERE to reserve your accommodation.